Below is the RECOMMENDATION sent to Weekly Options USA Members Today Explaining…..
Why the Carnival Corp Weekly Options Trade was Executed?
Prelude.....
Shares of Carnival Corp spiked in during Monday's trading session, as the stock was upgraded with bullish ratings from two analysts.
JPMorgan Chase & Co. analyst Matthew Boss upgraded shares of Carnival Corp (NYSE: CCL) from a neutral rating to an overweight rating in a report released on Monday morning. JPMorgan Chase & Co. currently has $16.00 target price on the stock, up from their prior target price of $11.00.
During meetings hosted by JPMorgan, the senior management of Carnival and peers Norwegian Cruise Line Holdings Ltd and Royal Caribbean Cruises Ltd maintained a "bullish tone on current trends" as well as on bookings in the first half of 2024, with "zero signs of momentum slowing," Boss said in the upgrade note.
These dynamics are occurring as "pent-up loyalist demand a year ago transitions to new-to-cruise strength today," he added. The analyst further stated that these companies had more balance sheet flexibility, with "ample liquidity for debt pay-down."
BofA Securities analyst Andrew Didora upgraded the rating from Neutral to Buy, while raising the price target from $11 to $20.
Meetings with Carnival, Norwegian Cruise Line and Royal Caribbean Cruises suggested that industry demand "remains steady in a time of consumer uncertainty, the pricing environment is rational, and booking curves are in line with company expectations," Didora said in the upgrade note.
"In our opinion, the cruise industry's long booking window and strong current demand could allow it to be less susceptible to a slowdown in the leisure consumer relative to other areas of travel," he added.
The CCL Weekly Options Trade Explained.....
** OPTION TRADE: Buy CCL JUL 07 2023 15.000 CALLS - price at last close was $0.92 - adjust accordingly.
Obviously the results will vary from trader to trader depending on entry cost and exit price that was undertaken.
Entered the CCL Weekly Options (CALL) Trade on Tuesday, June 13, 2023, at 9:50, for $0.96.
Sold half the CCL weekly options contracts on Tuesday, June 13, 2023, at 11:45, for $1.31; a potential profit of 60%.
Total Dollar Profit is $131 - $96 (cost of contract) = $35
Holding the remaining CCL weekly options contracts for further profit before expiry.
Don't miss out on further trades – become a member today!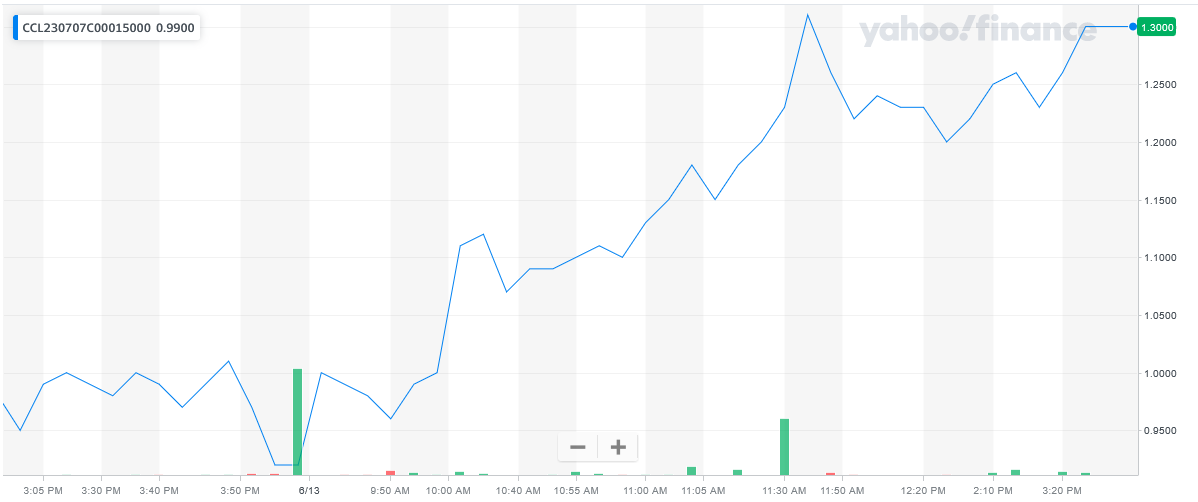 About Carnival Co.....
Carnival Corporation & plc is a leisure travel company operating a fleet of cruise ships, hotels, and resorts with international destinations. Brands under the Carnival Corporation umbrella include Carnival Cruise Line, Princess Cruises, Holland America, P&O Cruises, Seaborn, Costa Cruises, AIDA Cruises, and Cunard. The company's goal is to provide extraordinary vacations at an exceptional value. As of 2022, the company laid claim to nearly half of the global cruising market share with several new ships in the works.
Carnival Cruise Line was launched in 1972 with one second-hand ship and a tank of fuel. The first port of call was San Juan, Puerto Rico, but soon more were added. The original growth strategy included a festive atmosphere, features and amenities unlike any other cruise line at the time. Slow to start, the growth strategy shifted into overdrive in 1980 when Carnival shocked the world by building its own ship. The Tropicale became an iconic name in the cruising industry and sparked a wave of shipbuilding that is still underway.
The company's growth hit a new stride in 1987 following the IPO which floated 20% of the company on the open market. The proceeds from the IPO allowed the company to embark on a voyage of acquisition and now Carnival is the world's largest travel and leisure business.
Today, Carnival Corporations' 87 ships visit approximately 700 ports worldwide and employ more than 120,000 people while serving more than 13 million guests annually for a total of 85 million passenger cruise days per year. Net revenue, prior to the COVID-19 pandemic, peaked out at over $6.5 billion annually.
Further Catalysts for the CCL Weekly Options Trade…..
Carnival had a difficult time during the earlier stages of the pandemic. The world's biggest cruise ship operator anchored its ships -- and it shifted from a profit to a loss. At the same time, the stock plummeted. And investors wondered when, if ever, the cruising giant would recover.
Fast-forward to today. Carnival has seen a rebound in demand, it's making its way back to profitability, and the shares are soaring. So far this year, Carnival stock has climbed more than 50%.
Thanks to resilient demand for ocean getaways and a brighter long-term outlook, Royal Caribbean shares are up more than 150% from their July 14th, 2022 low. During the same period, the S&P 500 is up 11%.
Earlier this month, the world's third-largest cruise line stunned Wall Street with better-than-expected first-quarter financials. Along with management's expectations for smoother sailing, the report offered clues pointing to Royal Caribbean finally reaching $100.
Moving Ahead.....
Carnival is seeing progress that could result in a return to profit and a path to paying down debt. In the most recent earnings period, Carnival recorded its highest quarterly booking volumes ever. It topped records in North America, Europe, and Australia. This is a big sign that demand for cruising has returned worldwide. And total customer deposits reached a first quarter record.
The company said these trends are continuing. At the same time, a couple of other factors directly support the idea of paying down debt.
Carnival's cash from operations turned positive in the first quarter. The company expects cash from operations to keep increasing -- and plans to use this cash to pay its debt. Separately, Carnival's chief executive officer Josh Weinstein said last month that today it has only about four ships on order -- the lowest number in decades. This means less capital spending and more cash available for debt payments.
Analysts.....

According to the issued ratings of 17 analysts in the last year, the consensus rating for Carnival Co. & stock is Hold based on the current 3 sell ratings, 3 hold ratings and 11 buy ratings for CCL. The average twelve-month price prediction for Carnival Co. & is $12.42 with a high price target of $20.00 and a low price target of $7.00.
Summary.....
Carnival Co.'s fifty day moving average is $10.53 and its two-hundred day moving average is $10.12. The company has a debt-to-equity ratio of 5.30, a quick ratio of 0.60 and a current ratio of 0.64. The firm has a market cap of $16.44 billion, a PE ratio of -3.61 and a beta of 2.21. Carnival Co. & has a twelve month low of $6.11 and a twelve month high of $15.10.
Therefore…..
For future trades, join us here at Weekly Options USA, and get the full details on the next trade.