Why the Original Beyond Meat Weekly Options Trade was Executed?
Beyond Meat Inc (NASDAQ: BYND), which has struggled to keep consumers' attention, is in the midst of a turnaround plan and is aiming for cash-flow positive operations by the second half of 2023. The company is making progress on that goal, Chief Executive Officer Ethan Brown said in comments to analysts on Wednesday and in the company's earnings statement.
Cash and short-term investments fell to $258.6 million, down from about $310 million at the end of last year. That measure has slipped for eight consecutive quarters.
With high levels of inflation eroding purchasing power, Beyond Meat has reduced prices, but that has eaten into profitability. The company's latest results show that while retail sales are still falling, there are positive signs in international food service, where revenue doubled.
The company posted revenue of $92.2 million in the first quarter, above the average analyst estimate of $90.7 million compiled by Bloomberg. It also posted a loss of $45.8 million, excluding items such as taxes and interest. That was slightly better than analysts' estimates of a $48 million loss.
"Overall, the quarter produced mixed results," said Arun Sundaram, an analyst at CFRA. "Although operating losses are narrowing and the cash-burn rate is slowing, the company continues to struggle with weak demand in the US, particularly in the retail sales channel due to inflationary pressures on consumer budgets and rising competition."
US revenue was $58.8 million, below market expectations, while international revenue of $33.4 million outpaced estimates.
The category of meat substitutes has been under pressure for over a year now. By volume, sales of refrigerated meat alternatives slid 19% in the 52 weeks ending April 23, according to market-data tracker Circana. Frozen meat alternatives fell 6.3% by the same measure.
With sales slumping, Beyond Meat has slashed spending and trimmed operational costs, including rounds of layoffs last year. Job cuts have continued in recent days, according to people familiar with the matter who asked not to be named because they aren't authorized to speak for the company. Beyond Meat has also reduced parental leave benefits.
The shares have gained 1.4% this year through Wednesday's close.
The BYND Weekly Options Trade Explained.....
** OPTION TRADE 5: Buy BYND JUN 02 2023 12.000 PUTS - price at last close was $1.47 - adjust accordingly.
Obviously the results will vary from trader to trader depending on entry cost and exit price that was undertaken.
Entered the BYND Weekly Options (PUT) Trade on Thursday, May 11, 2023 for $1.28.
Sold the BYND weekly options contracts on Wednesday, May 16, 2023 for $2.29, a potential profit of 79%.
Don't miss out on further trades – become a member today!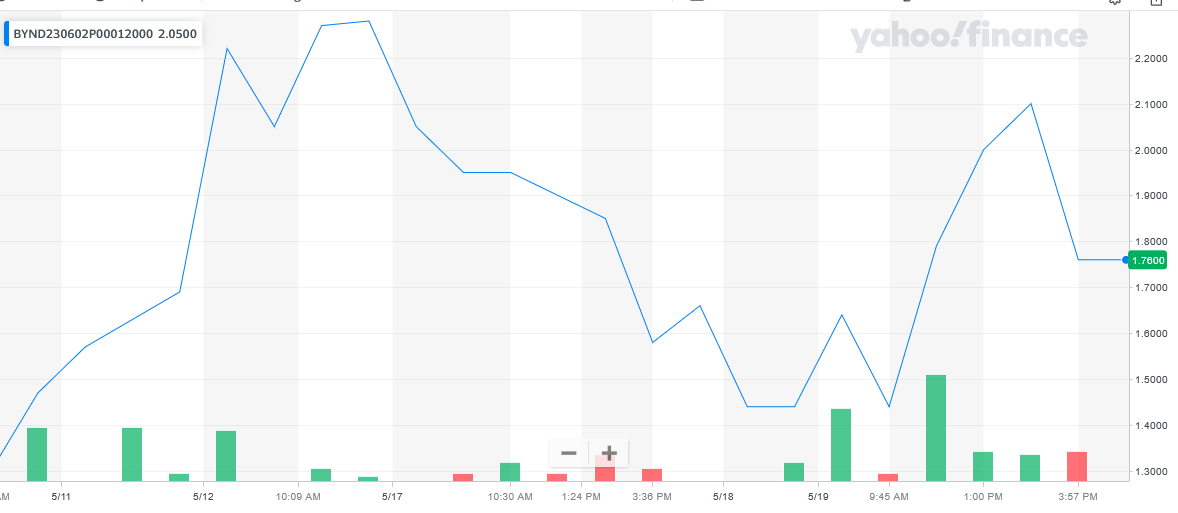 Why Beyond Meat Shares Continues To Fall…..
There's a long list of companies that thrived during the first two years of the pandemic only to fall upon extremely hard times as the public health crisis began to wane. Plant-based meat producer Beyond Meat has tumbled more than 90% from its peak, and does look like a good investment despite a beaten-down share price.
The plant-based meat craze looks to be over. Beyond Meat is struggling with lower volumes and lower pricing. The company's revenue tumbled 15.7% year over year in the first quarter, driven by a 7.3% decrease in volume and a 9% decline in revenue per pound.
Excluding Beyond Meat's jerky product, the company sold its products in 33,000 retail distribution points in the U.S. during the first quarter. The dire news is that, on average, each retail outlet sold less than 3 pounds of Beyond Meat's products each day. It's hard to imagine retail outlets sticking with the product given that level of sales volume.
Summary.....
A comeback for Beyond Meat is going to require a 180-degree shift in consumer behavior. It's also going to require the company's products to somehow stand out in a sea of similar alternatives. Given Beyond Meat's struggles with pricing, it clearly has no pricing power at all. The Beyond Meat brand doesn't seem to matter in the grocery store.
Therefore…..
For future trades, join us here at Weekly Options USA, and get the full details on the next trade.