The Recommended Applied Materials Options Trade.....
** Applied Materials OPTIONS TRADE: Buy AMAT JUL 16 2021 135.000 CALLS at approximately $5.80. (Actually bought for $4.35)
 Applied Materials Options Trade Call Success Explained.....
On Friday, May 21, 2021, "Up-and-Coming Traders" Members entered the trade mentioned above for $4.35.
On June 01 this options trade price hit a high of $10.95 - potential profit of 152%.
Also, this options trade price reached a high of $9.75 last Friday, June 04, 2021, providing members with a potential profit of 124% if they missed selling beforehand.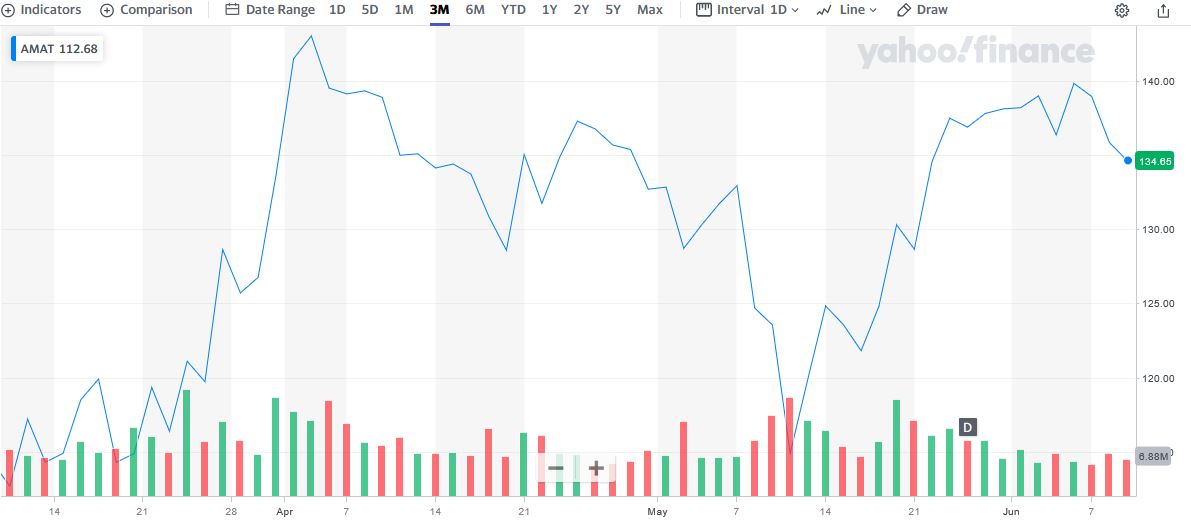 Why the Jump for the Applied Materials Options Trade
Applied Materials was provided a huge opportunity last year as global demand for semiconductor chips shot up to support the shift to remote work and online education. Semiconductor sales jumped 6.5% worldwide to $439 billion in 2020, over-straining a supply chain that was already impaired by the COVID-19 crisis.
In helping to meet this surging demand, Applied Materials benefited and finished its fiscal 2020 with an 18% increase in revenue and a 37% increase in adjusted earnings per share. Fiscal 2021 so far is turning out to be an even better year as semiconductor companies continue to spend billions of dollars to ramp up production capacity.
Applied Materials surge is far from over despite a slight pullback that has occurred this week. The company anticipates non-GAAP earnings of $1.76 per share this quarter on revenue of $5.92 billion, which is much higher than Wall Street's expectations of $1.56 per share in earnings on $5.53 billion revenue.
Semiconductor demand is expected to rise by a double-digit percentage this year, estimated to be an 11% increase in chip demand in 2021 following last year's 7% increase. This supply shortage will persist into the second half of the year; which means that chipmakers are expected to keep adding more capacity.
As well, faced with limited manufacturing options, many microchip designers are paying top dollar for the materials and processes they can get their hands on today.
"We're still in the early innings of major secular trends that will play out over the next decade and drive the semiconductor and semi-equipment markets structurally higher," CEO Gary Dickerson said on the earnings call. "For the first time, customers are providing capital spending guidance for multiple years into the future, which is a new leading indicator for demand sustainability."
Applied Materials' stock returns are supported by fantastic business results. The stock doesn't look expensive after that massive 52-week rush, trading at a modest 19 times forward earnings and seven times trailing sales. This company enjoys both an artificial short-term boost from the semiconductor shortage situation and a healthy long-term growth market.