Airline employees have a very powerful negotiating tool in order to get better pay, hours, and quality of life. They can, after clearing a lot of hurdles, strike, which essentially paralyzes the airline.
At an all-company meeting after the airline reported earnings, flight attendants union President Julie Hedrick appeared with other flight attendants wearing red union shirts "meant to signify 'We Are Ready'.
She spoke during the open question and answer portion of the meeting and noted that flight attendants had not had a raise in five years.
American Airlines CEO Robert Isom addressed the issue, without being too specific, in answer to Hedrick's question.
"You are going to receive compensation and benefits that are best in the industry. You may say it's not enough to match Delta or to match whoever it is. I understand. That's why we negotiate," he said,
American Airlines flight attendants voted to authorize a strike with 99% of members approving a work stoppage. The union wants a 50% increase in wages.
"American Airlines has offered Delta-level wages including boarding pay along with increased profit sharing, increased training pay, and increased retirement contributions. The initial wage increase would be 11%, followed by 2% increases in each of the remaining years of the 5-year agreement."
The union has revised its demands to a 35% initial increase with 6% increases each year after.
Why the AAL Weekly Options Trade was Originally Executed!
US carriers like American Airlines Group Inc (NASDAQ: AAL) are sputtering into the fourth quarter after losing the gains from the first half of the year — when shares were flying high on "revenge travel."
"The tide has shifted," Chris Raite, sector analyst at Third Bridge, said. "We are seeing a divergence. International travel is a lot more profitable, so it gives them a bit more leeway to be competitive."
Third quarter results shows the industry is facing choppiness amid labor negotiations and higher jet fuel costs.
The AAL Weekly Options Trade Explained.....
** OPTION TRADE: Buy AAL NOV 10 2023 11.000 PUTS - price at last close was $0.42 - adjust accordingly
Obviously the results will vary from trader to trader depending on entry cost and exit price that was undertaken.
Entered the AAL Weekly Options (PUT) Trade on Monday, October 23, 2023, for $0.29.
Sold HALF the AAL weekly options contracts on Friday, October 27, 2023 for $0.42; a potential profit of45%.
Don't miss out on further trades – become a member today!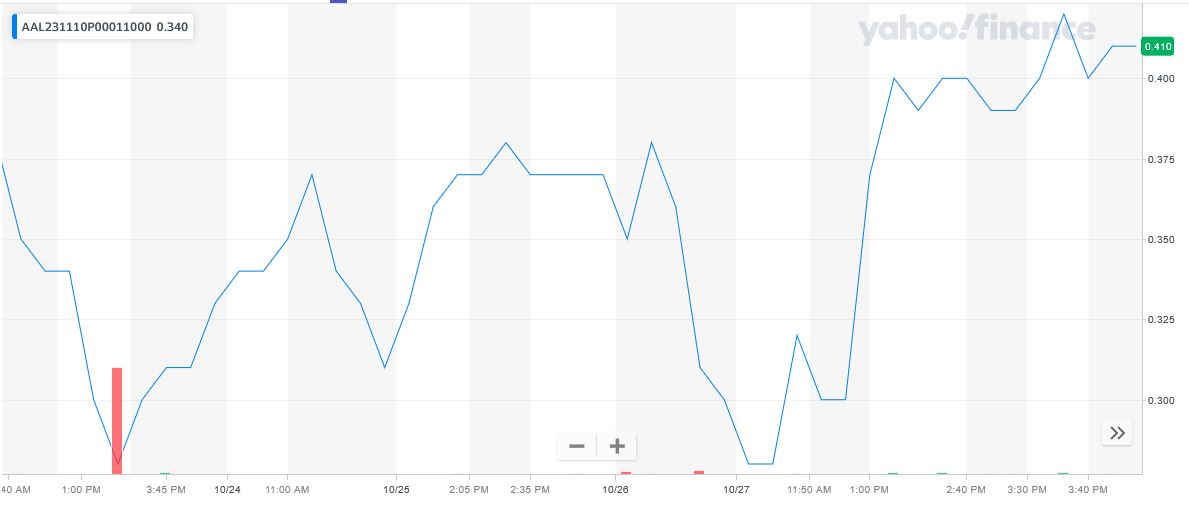 About American Airlines Group.....
American Airlines Group Inc, through its subsidiaries, operates as a network air carrier. The company provides scheduled air transportation services for passengers and cargo through its hubs in Charlotte, Chicago, Dallas/Fort Worth, Los Angeles, Miami, New York, Philadelphia, Phoenix, and Washington, DC, as well as through partner gateways in London, Doha, Madrid, Seattle/Tacoma, Sydney, and Tokyo.
Further Catalysts for the AAL Weekly Options Trade…..
American Airlines said third-quarter cargo revenue fell 31% to $193 million, following a similar trajectory as its U.S. peers that are also dealing with a prolonged contraction in cross-border shipping volumes driven by economic uncertainty and improved ocean shipping reliability.
The downbeat cargo figures came against record corporate revenue of $13.5 billion and adjusted net income of $263 million during the three-month period, in which a nearly $1 billion one-time payout related to a new pilot labor deal was not recognized. The company has posted six consecutive quarters of profits and paid down 70% of its of its total $15 billion in debt coming out of the pandemic.
American Airlines received $613 million in cargo revenue for the nine-month period through September, a drop of 36.8% from a year prior.
The results were expected in an air cargo market that has seen overall volumes fall by 8% to 10% since March 2022, finally hitting bottom in late summer. Airfreight shipping prices have been 40% to 50% lower than last year for most of 2023 and have only recently seen marginal seasonal improvement. Cargo was a rare silver lining for airlines after the pandemic disrupted ocean supply chains and caused carriers to halt passenger flights, resulting in a huge loss of belly capacity.
American's cargo results lagged 2019 levels of $208 million for the third quarter and $647 million for the first three quarters.
Fewer large jets in the fleet and a smaller Asia-Pacific network have constrained the cargo business and partly explain the difference. The airline retired all of its Boeing 767 medium widebody aircraft at the beginning of the pandemic, as well as its Airbus A330s, and has about 30 fewer widebodies flying today, American Airlines Cargo President Greg Schwendinger said on a recent episode of the Cargo Masters podcast.Summary.....
Travel stocks often decline during times of war due to several factors, including security concerns and uncertainty about safety. That's particularly true of regions affected by war, which explains cancellations of flights to Tel Aviv.
Additionally, wars can disrupt transportation infrastructure, causing wider cancellations and delays. Wars can also result in economic instability and higher fuel costs. This was a factor in early 2022 when Russia invaded Ukraine and appears to be a factor again. 
For all those reasons, investors often sell off travel stocks in times of geopolitical strife.
Summary.....
On Thursday American's stock rebounded from a three-month low after the carrier's profit solidly beat Wall Street expectations, but its forecast came in soft due to higher fuel costs and demand trends.
Higher labor costs are also an overarching challenge this year, as carriers negotiated contracts amid an industry pilot shortage.