AMD Weekly option trade

Prelude.....
Yesterday we executed an options call trade on Advanced Micro Devices, Inc. (NASDAQ:AMD), which returned 200% profit in two and a half hours. The stock has continued to climb upwards.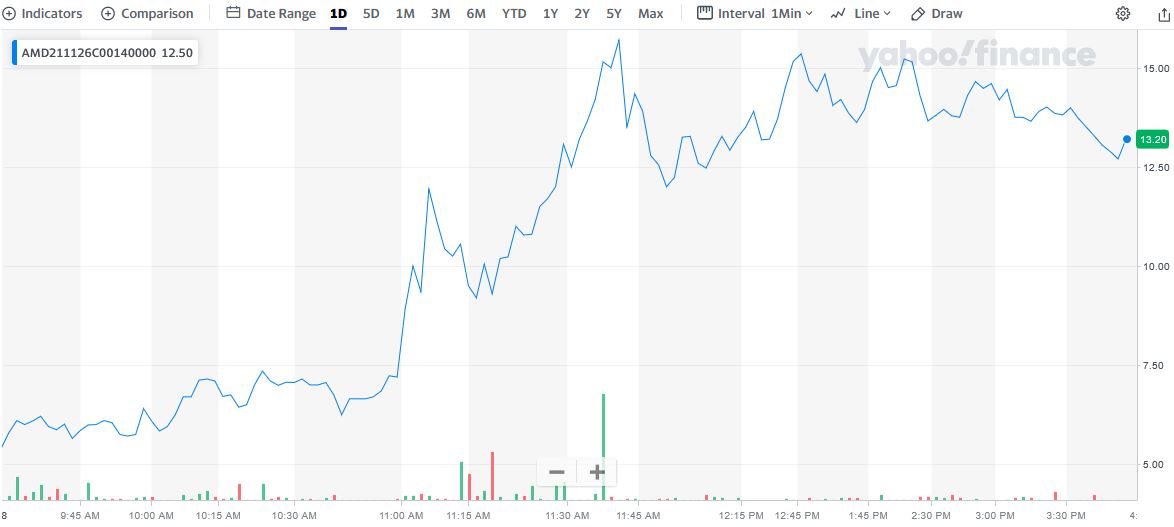 AMD has been an outstanding performer on the stock market so far this year, with shares of beating the broader market by comfortable margins.
Advanced Micro Devices is a semiconductor giant, producing advanced computer chips that power some of the most popular devices on the market. Consumers are demanding more intelligent goods with functions beyond their formerly typical use-cases (internet connectivity inside cars, for example), and AMD will play a critical role as these trends progress.
The company's chips can be found in a number of products you've likely interacted with recently, including Sony's PlayStation 5, and Microsoft's Xbox Series X and Surface line of devices. But it struck an even more exciting deal earlier this year that will see AMD chips powering Tesla's Model S and Model X infotainment systems.
REASONS FOR THE AMD WEEKLY OPTION TRADE
The AMD weekly option trade was recommended to our members based on several catalysts.
1. Earnings and Forecast…..
AMD recently released its third-quarter results for the three months ending on Sept. 25. It reported stellar growth once again, with revenue jumping 54% year-over-year to $4.3 billion during the quarter. Adjusted gross margin was up 440 basis points year-over-year to 48%, while non-GAAP net income shot up 78% to $893 million. The chipmaker's third-quarter earnings came in at $0.73 per share, up substantially from $0.41 per share in the prior-year period.
More importantly, AMD increased its full-year revenue forecast due to solid demand for its chips, which are used in computers, gaming consoles, and data centers. The company now expects 65% revenue growth in 2021, up from its prior guidance that called for a 60% increase.
AMD has raised its full-year revenue guidance each time it has reported results this fiscal year. The company had originally guided for 37% revenue growth when it released its fourth-quarter 2020 results in January this year but raised the guidance to 50% growth when it released its Q1 report. And then to 60% when it released its Q2 earnings in July!
2. GPU Market.....
AMD seems to be making headway in the GPU market. AMD pointed out in its latest earnings conference call that revenue from data center GPUs more than doubled over the year-ago period. Management also said that sales of its consumer graphics cards increased "significantly" thanks to the launch of new graphics cards at aggressive prices.
Alternatively, AMD supplies data center CPUs and gaming console chips through the enterprise, embedded, and semi-custom (EESC) business. Nvidia currently doesn't have a presence in the data center CPU market, with its Grace CPU only expected in 2023. This paves the way for AMD to take more market share away from Intel by that time and boost its data center business.
3. Semi-Custom Chips…..
AMD's semi-custom chips are used in the PlayStation 5 and the latest Xbox consoles, and the upcoming Steam Deck would add another gaming console to its portfolio. Nvidia, meanwhile, has only the Switch console from Nintendo to tap into the gaming console space.
4. Growth…..
AMD gets its revenue from two segments, as discussed earlier. The computing and graphics segment sells Ryzen processors that are used in desktops, notebooks, and workstations, as well as graphics cards that are used by both gamers and data centers. This business was in fine form last quarter and recorded 44% year-over-year revenue growth to $2.4 billion, accounting for 56% of AMD's total revenue.
The chipmaker saw an increase in the average selling price of its Ryzen processors and graphics cards, as customers bought more high-end products. There were quite a few solid takeaways from this segment, as AMD saw an increase in the adoption of its Ryzen 5000 mobile processors by notebook OEMs (original equipment manufacturers). At the same time, the commercial deployment of notebooks based on Ryzen processors increased significantly during the quarter across public-sector organizations and Fortune 1000 companies.
Meanwhile, the launch of Ryzen 5000 desktop processors with integrated AMD graphics also met with a solid response from the market. AMD says that it has now gained market share in the client-processor market for six quarters in a row.
Mercury Research estimates that AMD held 20% of the notebook CPU market at the end of the second quarter, while its share of the desktop CPU market stood at 17.1%. Intel controlled the rest of the market but has been steadily losing ground to AMD in these markets because of the latter's technological advantage. AMD has room to gain more market share from Intel in the processor space, and doing so could substantially increase the chipmaker's computing and graphics revenue in the long run.
Then there's the enterprise, embedded, and semi-custom (EESC) segment, which accounted for the rest of AMD's revenue last quarter. The company registered a 69% year-over-year increase in sales in this segment to $1.9 billion. The strong demand for gaming consoles from Sony and Microsoft, which use AMD's semi-custom processors, was a key catalyst for this segment. More importantly, AMD's semi-custom revenue seems set for long-term growth as the demand for the PlayStation 5 and the latest Xbox consoles is expected to grow at a nice pace in the coming years.
Finally, the server-processor market turned out to be a happy hunting ground for AMD, as the company registered its sixth-straight quarter of record server revenue. AMD's server-processor revenue more than doubled year over year, which isn't surprising as it's been taking away significant market share from Intel in this space. In the second quarter, AMD's server-market share was up 3.7 percentage points year over year to 9.5%.
With AMD's EPYC server processors being selected by more supercomputers and cloud-service providers, the chipmaker's server-market share could head further north. With AMD anticipating that the server-processor market could hit $19 billion in revenue by 2023, a higher market share could boost its revenue big time.
7. Analysts Thoughts.....

AMD posted another strong earnings report at the end of October, which caused several analysts to raise their near-term price targets. The highest price target is $180, with most analysts bullish on the stock.