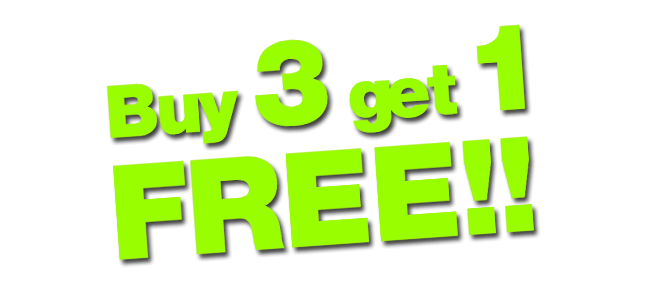 TRADER'S TRIO SPECIAL
(BETTER THAN A BAKER'S DOZEN!)
BUY THREE MONTHS OF WEEKLY OPTIONS TRADING MEMBERSHIP FOR $357 AND GET A FOURTH MONTH FREE!
Payments processed safely and securely through Paypal.

Alibaba Falls On Slow Growth and Beijing's Regulatory Plans!

But, Members of "Weekly Options USA" Are Up 153

%

Using A Weekly Put Option!
Friday, February 25, 2022

by Ian Harvey
Alibaba reported on Thursday its slowest quarterly revenue growth since going public in 2014. Also, Beijing's regulatory plans for the sector took a toll on the stock.
But, "Weekly Options USA" Members were up 153% after earnings using a weekly put option!
 Don't miss out on further trades – become a member today!
Alibaba to Tencent, China's largest companies are once again at the center of a market storm, spurred by speculation that Beijing is readying another assault on the world's biggest internet arena.
Three of China's most valuable businesses -- Alibaba Group Holding Ltd., Tencent Holdings Ltd. and Meituan -- have shed more than $100 billion in the span of three turbulent days.
And, Alibaba Group Holding Ltd (NYSE:BABA) was among the biggest losers after reports that authorities have begun another round of checks on its fintech business arm.
On top of this Alibaba reported on Thursday its slowest quarterly revenue growth since going public in 2014, hit by a drop in sales at its core business segment and intensifying competition. The shares of Alibaba crashed by nearly 7% on Thursday; hitting an all-time low in Hong Kong ahead of publication of the company's October-December third quarter results.
About Alibaba Group.....

Alibaba Group Holding Ltd. engages in providing online and mobile marketplaces in retail and wholesale trade. It operates through the following business segments: Core Commerce; Cloud Computing; Digital Media & Entertainment; and Innovation Initiatives and Others.

The Core Commerce segment comprises of platforms operating in retail and wholesale. The Cloud Computing segment consists of Alibaba Cloud, which offers elastic computing, database, storage and content delivery network, large scale computing, security, management and application, big data analytics, a machine learning platform, and other services provide for enterprises of different sizes across various industries. The Digital Media & Entertainment segment relates to the Youko Tudou and UC Browser business. The Innovation Initiatives and Others segment includes businesses such as AutoNavi, DingTalk, Tmall Genie, and others.

The company was founded by Chung Tsai and Yun Ma on June 28, 1999 and is headquartered in Hangzhou, China.
Read the article.... ."Weekly Options Puts Provide Explosive Profits!"
Members Profits on the alibaba Trade.....
Weekly Options USA Members entered this trade on Tuesday, February 22, 2022 for approximately $5.40; and by Thursday the price of the option hit 13.65.
This Alibaba Options Put trade provided a potential profit of 153%.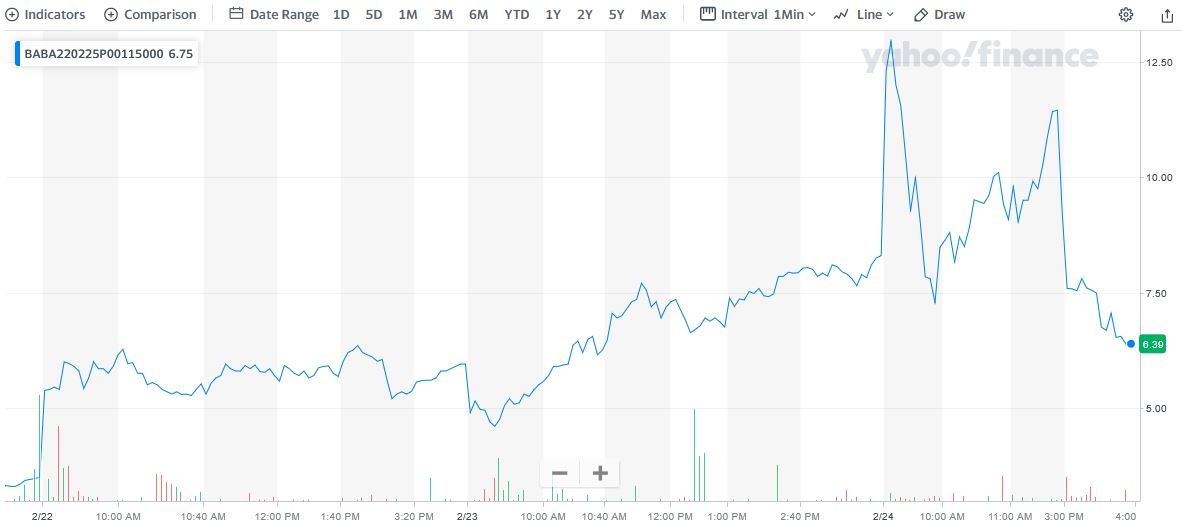 Jack Ma's Ant Group Co.....
The bloodletting began last Friday, when the top state economic planner demanded Meituan and its peers lower the fees they charge restaurants in pandemic-hit regions.
On Monday, a pair of unverified online posts that went viral suggested Tencent -- which weathered 2021's onslaught better than most -- was facing a major regulatory crackdown, forcing its public relations chief into an unusually aggressive denial.
Later that day Beijing had ordered state-run firms to report their exposure to Jack Ma's Ant Group Co. -- the hardest-hit firm in a year-long government campaign against "disorderly capital."
"The events of the past 48 hours are a wake-up call that regulation isn't finished," said Michael Norris, an analyst with Shanghai-based consultancy AgencyChina. "We are going to be in a situation where the regulation and the slowdown in China's economy happen side by side. It's going to be challenging for businesses that rely on consumers and merchant advertising to be able to make this year's numbers."
As well, U.S. regulators added Alibaba's AliExpress (and rival Tencent's WeChat e-commerce site) to their list of notorious markets which do not do enough to limit trade in pirated goods. Alibaba's Taobao was already on the list.
The Earnings Report.....
Revenue for the company, whose main business is e-commerce, rose 9.7% to $38.1 billion but that was well below its historical growth rate, which has averaged around 40% since it went public in 2014. Revenue in the quarter was also short of estimates at $38.9 billion.
Alibaba's customer base continued to grow as well, with the company adding 43 million customers in the quarter to reach a total of 1.28 billion. Its China commerce segment, which makes up the majority of its revenue, grew just 7% to $27 billion Management cited "slowing market conditions" and competition as the main reasons for the weak growth.
The company also took a $3.9 billion goodwill impairment charge in its digital media and entertainment segment, a likely response to government orders to divest some of its media assets. Adjusting for that charge, operating income fell by 34% to $5.1 billion. Management said the decline was due to investments in growth initiatives.
On a per-share basis, the company turned in a profit of $2.65, down 23% from the year-ago quarter, and ahead of estimates at $2.55.
Summary.....
The risks to growth are especially prominent at Alibaba, which last year swallowed a record $2.8 billion fine after regulators forced it to end certain merchant exclusivity practices that allegedly helped it one-up rivals. The regulatory assault has cut the company's market value from $858 billion in October of 2020 to roughly $310 billion.
Its outlook is challenging.
Alibaba's results confirmed many of the biggest worries about the stock, which is that government actions have fundamentally changed the company, restraining its growth and cutting into profits. It's also added a high degree of uncertainty to Alibaba's future.
Therefore…..
A Successful Alibaba Trade Based On A Put Option!
What Further Alibaba Weekly Trades Will We Recommend?
What Other Trades Are We Anticipating?
Do You Wish To Be Part Of This Action?
For answers, join us here at Stock options Made Easy, and get the full details on the next trade.
Back to Weekly Options USA Home Page from Alibaba

Intel Corporation Shares Fall Due To New Guidance! Weekly Options Members Are Up 70% Potential Profit Using A Weekly Put Option!

The results from recent trades offered through our membership service are listed on this page.

Honeywell International is a diversified conglomerate with a strong presence in the aerospace and defense sectors. The company has significant potential, particularly in the building technologies sect…