Taiwan Semiconductor, better known as TSMC, saw its second-quarter 2022 earnings report indicating chip spending is still very healthy, especially as businesses update their operations for cloud computing and AI. TSMC said its Q2 sales increased 37% year over year (in U.S. dollars), and provided an outlook for another 36% increase for Q3.
With demand still on the rise for enterprise hardware, semiconductor companies with a focus on cloud and AI, such as Advanced Micro Devices, Inc. (NASDAQ AMD) are poised to report healthy growth in Q2 and beyond.
The share price of Advanced Micro Devices has been halved since it soared above $160 in November 2021. During the same period, the company has improved its competitive positioning in the rebounding semiconductor space.
Early in 2022 AMD completed a massive merger with design peer Xilinx in the largest deal ever in the industry. AMD has been on a tear for a decade, going from a small thorn in the side of market leader Intel to a leading researcher and developer of silicon devices. Adding Xilinx to the mix will help AMD keep this epic run going.
The Profits Explained.....
Entered the Advanced Micro Devices trade on Thursday, July 21, 2022 at 10:27am for $3.90.
Exited the trade at 12:29pm, after less than 2.5 hours, for $5.60 providing a potential profit of 43%.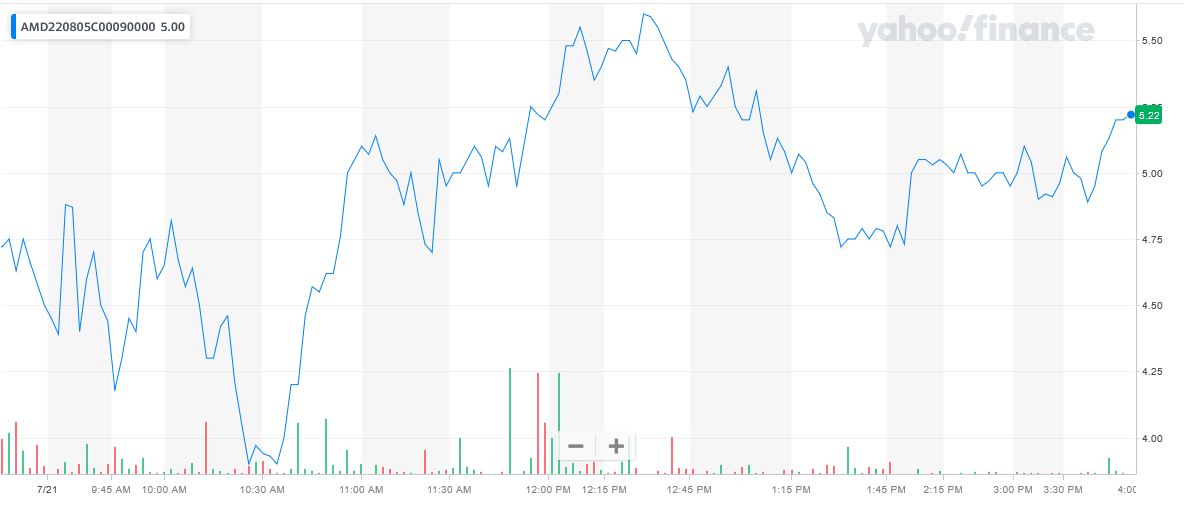 Why the Weekly Options Call Trade on
Advanced Micro Devices
Future Earnings.....
When AMD reports earnings on Aug. 2, expect AMD's EPYC processors for data centers will continue to keep AMD in fast growth mode. As a TSMC customer, the chip fab giant's recent report indicates as much for AMD. But Xilinx was also a growing company before the merger, and its chip portfolio is also enjoying steady tailwinds from industrial applications.
The integration of Xilinx has yet to be fully appreciated by the market. Although AMD's first quarter results included roughly six weeks of Xilinx sales, we've yet to see the full impact of the business. After all, it is a big reason why management doubled its full-year revenue growth forecast to 60%.
Xilinx.....
The beauty of having Xilinx is it fulfills several needs for AMD. One is that it will help AMD lift its profit margins, simply because Xilinx itself had better profit margins than AMD did pre-merger. More importantly, though, AMD's growth has been propelled by cloud data center chips. However, over half of AMD's revenue is tied to far more cyclical consumer electronics sales. Xilinx and its focus on industrial and enterprise networking applications will diversify AMD away from more volatile consumer sales in a big way.
The Chips Act.....
This trade is a continuation from the situation we encountered with Nvidia AND Marvell - the semiconductor subsidy bill currently before Congress and its effects on certain stocks.
The bill, which holds the promise of some $52 billion worth of subsidies for the US semiconductor industry, was stalled in the Congressional processes for several months but last week got a boost from House Speaker Nancy Pelosi.
The semiconductor chip bill has bipartisan support, and while its path through the Senate is rocky, it's expected to pass – and that will mean an infusion of cash into the US semiconductor industry. While the chip segment is hurting now, $52 billion will open a lot of opportunities, up and down the semiconductor supply chain, and a weekly call option is looking good at this stage.
Analysts.....
Last week, a half dozen analysts gave Advanced Micro Devices buy ratings with price targets in the $99 to $130 range.
Wedbush analyst Matt Bryson said that he fancied Advanced Micro Devices as the most likely near-term winner in the semiconductor space, beating out competitors like NVIDIA and Intel.
He sees AMD continuing to gain share from Intel in both the key categories of servers and PCs, adding "I don't really see that dynamic changing until late '24/'25."
His peers at BMO Capital Markets made similar comments last week as part of their upgrade to AMD shares. BMO analyst Ambrish Srivastava raised his rating to outperform from market perform and bumped the price target to $115 from $100, noting that even though there are some "near-term headwinds," the company has transformed itself.
In a note to clients, he wrote that "there is no going back for customers to the old days of when AMD's share would be capped", adding that they see "continued momentum from our work around the industry, and see AMD's server share continuing to expand."
According to the issued ratings of 29 analysts in the last year, the consensus rating for Advanced Micro Devices stock is Moderate Buy based on the current 7 hold ratings, 21 buy ratings and 1 strong buy rating for AMD. The average twelve-month price prediction for Advanced Micro Devices is $127.41 with a high price target of $200.00 and a low price target of $85.00.
Summary.....
AMD stock now trades for 32 times trailing 12-month free cash flow and just 19 times current-year expected earnings. The bar is set lower than it has been for years for this chip design leader, and I think AMD is a top buy ahead of its Q2 earnings report in a couple weeks.
Considering shares are trading at the same level where they spent much of 2020, there's a lot to like about the risk/reward profile at AMD today. Most of the downside is already baked into the share price at this point. That leaves a ton of room for upside surprises in the coming quarters.
Therefore…..
For future trades, join us here at Weekly Options USA, and get the full details on the next trade.