Why the Profit on Advanced Micro Devices Stock?
Advanced Micro Devices, Inc. (NASDAQ AMD) stock has declined for the past year, on fears that the semiconductor market is heading for a glut, mainly as fears of a global slowdown weigh on sentiment after years of shortages.
Lingering logistic issues and declining demand are marring the optimal productivity of the semiconductor industry. The semiconductor industry is struggling with increased government restrictions. Moreover, the current inflationary pressures will likely hurt consumer spending, further dampening the overall demand.
Given the near-term headwinds, semiconductor stock Advanced Micro Devices might be best avoided now as a stock trade. However, a put option seems to be the way to go.
In addition to the potential glut, that is expected to come in 2023, AMD is now witnessing the price fall for some of its chips. While the fall in price is currently primarily segregated to the secondary market, the price decline is now starting to affect the primary sales as well. Analysts are currently torn between whether there will be a chip shortage, or a glut going into 2023, and the mixed news is clearly leading to a negative outlook.
This has been a bad year for semiconductor stocks following two years of healthy growth when supply was tight and demand was booming. That explains why the PHLX Semiconductor Sector index has lost 35% of its value in 2022.
Reports about high levels of semiconductor inventories and weakening demand have sent shockwaves through this once-high-performing sector. Not surprisingly, shares of Advanced Micro Devices have borne the brunt of the broader semiconductor industry weakness.
The U.S. government's latest sanctions on sales of artificial intelligence (AI) chips to China have further dented investor confidence in the stock despite AMD's solid results and sunny outlook.
The stock has declined 26.5% over the past year and 46.5% year-to-date to close the last trading session at $74.48.
The Profits Explained.....
Entered the Advanced Micro Devices stock trade on Thursday, September 22, 2022 for $2.93 at start of trading.
Exited the trade Thursday, September 22 at 2:28pm for $5.30, a potential profit of 81%.
Don't miss out on further trades – become a member today!
About Advanced Micro Devices.....
Advanced Micro Devices, Inc. engages in the provision of semiconductor businesses.
It operates through the following segments: Computing & Graphics, and Enterprise, Embedded and Semi-Custom. The Computing and Graphics segment includes desktop and notebook processors and chipsets, discrete and integrated graphics processing units, data center and professional GPUs and development services. The Enterprise, Embedded and Semi-Custom segment includes server and embedded processors, semi-custom System-on-Chip products, development services and technology for game consoles.
The company was founded by W. J. Sanders III on May 1, 1969 and is headquartered in Santa Clara, CA.
More Reasons Why The Initial Weekly Options Put Trade on Advanced Micro Devices Stock.....

Also, read the details in the previous trade – ZOOM – under the heading "Market Negativity" – which also applies here.
Interest Rate Hike.....
The Federal Reserve raised its target fed funds rate by 0.75% on Wednesday to a new range of between 3% and 3.25%, its third 0.75% rate hike in four months. The Fed said it will continue with its previously announced plan to let Treasury securities and agency debt and agency mortgage-backed securities roll off its balance sheet on a monthly basis.
"Inflation remains elevated, reflecting supply and demand imbalances related to the pandemic, higher food and energy prices, and broader price pressures," the Fed said in a statement.
"Chairman Powell reiterated the Fed's hawkish stance with another aggressive rate hike and set the tone for markets to prepare for a tougher economic situation ahead as the battle against inflation endures," Charlie Ripley, Senior Investment Strategist for Allianz Investment Management said.
Earnings Expectations.....
Street expects AMD's revenue to be $6.71 billion for the third quarter ending September. The consensus EPS is estimated to be $1.05 for the same period.
For the second quarter ended June 25, 2022, AMD's net revenue came in at $6.55 billion, up 70.1% year-over-year. However, its operating income came in at $526 million, down 36.7% year-over-year. Its net income came in at $447 million, down 37% year-over-year, while its EPS came in at $0.27, down 53.4% year-over-year.
Valuations.....
In terms of its forward EV/S, AMD's 4.61x is 77.8% higher than the industry average of 2.59x. Its forward EV/EBITDA of 13.18x is 8.2% higher than the industry average of 12.18x. Also, its forward P/S of 4.71x is 86.3% higher than the industry average of 2.53x. In addition, its forward Price/Cash Flow of 18.56x is 9.2% higher than the industry average of 17.00x.
Restrictions.....
Earlier this month, it was reported that AMD had received instructions from U.S. Officials to stop exporting its artificial intelligence chips to China. Although the company said it does not believe the new rules would have a material impact on its business, the restriction might impact its overall sales.
Furthermore, the global semiconductor revenue is expected to decline by 7.4% in 2022 compared to a 26.3% increase last year. With slowing consumer demand, this revenue decline will likely continue through 2023, with semiconductor revenues projected to decline 2.5% in the year.
Expenses.....
AMD's operating expenses increased 150.8% year-over-year to $2.51 billion for the fiscal second quarter ended June 25. Its operating income amounted to $526 million, showing a decline of 36.7% year-over-year, while its net income declined 37% year-over-year to $447 million. The company's EPS decreased 53.4% year-over-year to $0.27 for the same period.
Supply Chains.....
New supply is expected to slowly come through in 2023 and 2024, which may finally ease up the current shortages, as plants across the United States, and Asia (Japan), open up. But issues that continue to hamper supply in the short term as material shortages, stemming from supply chain disruptions in China, and water shortages continue to affect the market.
The prolonged economic conditions are starting to impact demand evidenced by slowing orders and rising cancellations.
Supply can eventually return to normal, but demand is more subjective and temperamental. It's not unexpected during a monetary tightening period led by rising interest rates. However, when a best-in-class leader cautions that demand is being adversely affected, the markets will react quickly.
China Restrictions.....
The already-fractured U.S.-China relationship could worsen as the U.S. rolls out more restrictions aimed at curbing China's access to technology and investments, injecting an additional source of volatility for global investors.
Last week, President Joe Biden signed an executive order to better scrutinize foreign investments into the U.S. involving critical technologies that may pose a national security threat to the country, especially in areas like artificial intelligence, biotechnology, and clean energy. That includes directing the Committee on Foreign Investment in the U.S., which reviews these business opportunities, to examine a series of transactions that might appear safe in isolation—but are more concerning when grouped together. The panel must also consider cybersecurity issues and any risks around the personal data of U.S. citizens.
Demand....
After witnessing booming demand amid global supply chain issues during the pandemic, the semiconductor industry is facing a slowdown. The world chip sales growth has fallen for six straight months. Despite strong government support, many chipmakers have slashed billions of dollars off their planned capital expenditure due to shrinking consumer demand.
The inflationary pressures and fears of a recession have slumped the demand for semiconductors from electronics, automotive, and other sectors for the second consecutive month in August.
Technicals.....
The technicals remain slightly bearish with the put-call ratio at .82, and the current RSI is at 35, indicating the stock is oversold. Investors and traders are clearly on the back foot, as the increasingly dovish monetary policy is weighing on sentiment.
AMD has risks and the global economy slowing down leading to a cyclical downturn, combined with excess investment leading to a chips glut, remain the biggest ones.
Insider Selling.....
SVP Forrest Eugene Norrod sold 824 shares of Advanced Micro Devices stock in a transaction dated Thursday, August 18th. The stock was sold at an average price of $99.31, for a total value of $81,831.44.
Also, EVP Rick Bergman sold 3,000 shares of the business's stock in a transaction that occurred on Tuesday, August 23rd. The stock was sold at an average price of $92.39, for a total transaction of $277,170.00.
Analysts.....
Advanced Micro Devices had its price objective reduced by investment analysts at Mizuho from $140.00 to $125.00 in a research report issued to clients and investors on Thursday, last week. The brokerage currently has a "buy" rating on the semiconductor manufacturer's stock.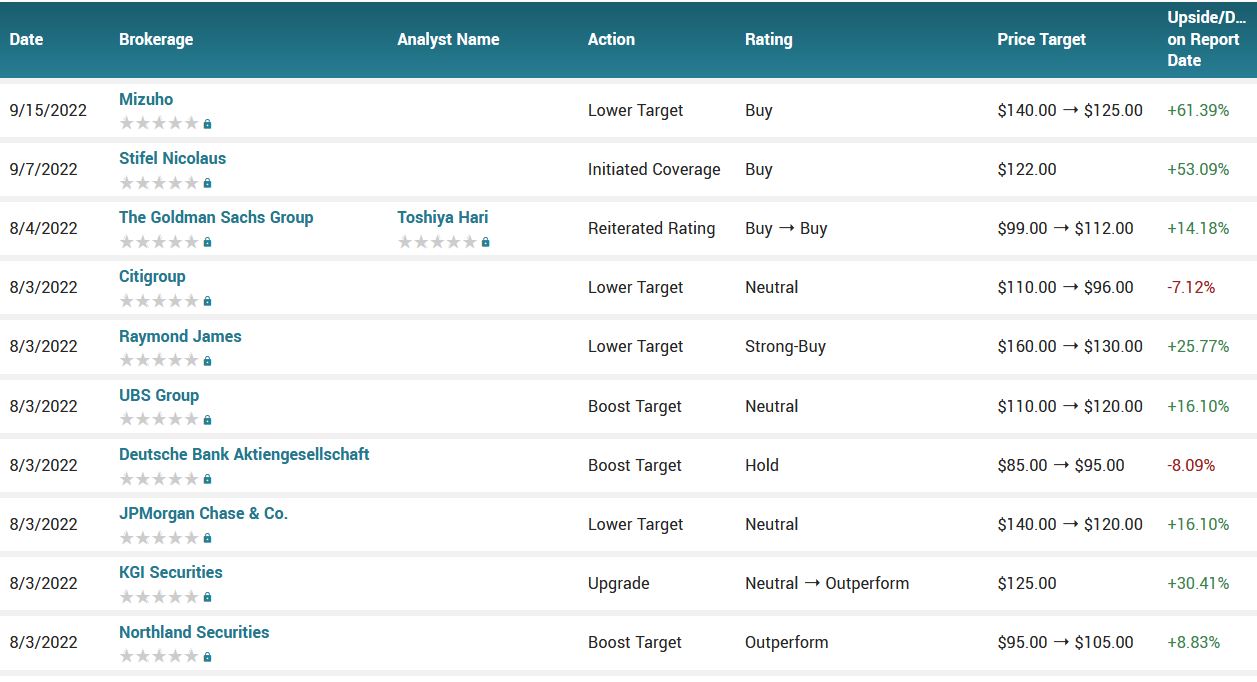 According to the issued ratings of 30 analysts in the last year, the consensus rating for Advanced Micro Devices stock is Moderate Buy based on the current 7 hold ratings, 22 buy ratings and 1 strong buy rating for AMD. The average twelve-month price prediction for Advanced Micro Devices is $125.30 with a high price target of $200.00 and a low price target of $85.00.
Summary.....
AMD has registered weak momentum over the past months. It is currently trading near its 52-week low of $71.60, which it hit on July 5, 2022. And given the semiconductor industry's grim near-term outlook, this fundamentally weak stock might plunge further.
AMD has a market capitalization of $123.29 billion, a PE ratio of 31.62, and a P/E/G ratio of 0.71 and a beta of 1.97. The company has a debt-to-equity ratio of 0.04, a current ratio of 2.44 and a quick ratio of 1.96. The business's 50 day moving average price is $89.04 and its 200-day moving average price is $93.67. Advanced Micro Devices, Inc. has a 52-week low of $71.60 and a 52-week high of $164.46.
Therefore…..
For future trades, join us here at Weekly Options USA, and get the full details on the next trade.