influencing factors leading up to
crm EARNINGS DATE NOVEMBER 30, 2021
Analysts' Thoughts on CRM Earnings Date November 30, 2021
Salesforce(CRM) has been getting plenty of positive attention ahead of the CRM earnings date for its fiscal 2022 third-quarter (which ended Oct. 31). That earnings report will be released on Tuesday, November 30, 2021. Earlier this month, Salesforce stock garnered buy ratings and price target hikes from analysts at Credit Suisse, Deutsche Bank, and Morgan Stanley.
The quote below is from Morgan Stanley analyst Keith Weiss who said in a report that Salesforce stock is well positioned based on a survey of spending priorities for chief information officers.
"Salesforce's core portfolio squarely addresses CIO's top priorities for digital transformation," Weiss said. "Our survey bolsters confidence in industry growth forecasts as marketing, CRM and customer service ranked highest among priorities. Meanwhile, we see momentum building in the market addressed by Slack as businesses implement tools to better collaborate and improve productivity while working remote in the 'new normal' post Covid."
Also, on Monday analyst Patrick Walravens of investment research firm JMP Securities reiterated Salesforce as a buy and boosted his price target to $350 from a previous $320.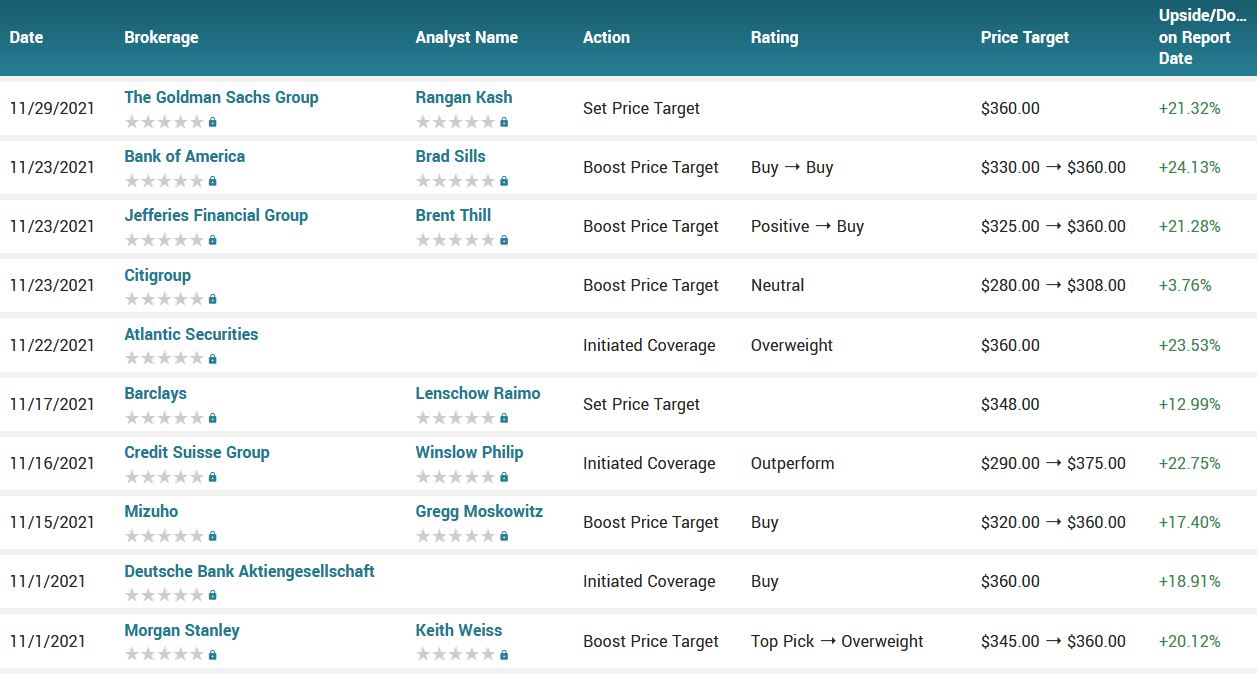 Ahead of the CRM earnings date of November 30, 2021, the consensus rating for Salesforce.com stock is "Buy." This is according to the issued ratings of 40 analysts in the last year, based on the current 6 hold ratings, 32 buy ratings and 2 strong buy ratings for CRM. The average twelve-month price target for salesforce.com is $323.87 with a high price target of $375.00 and a low price target of $242.00.