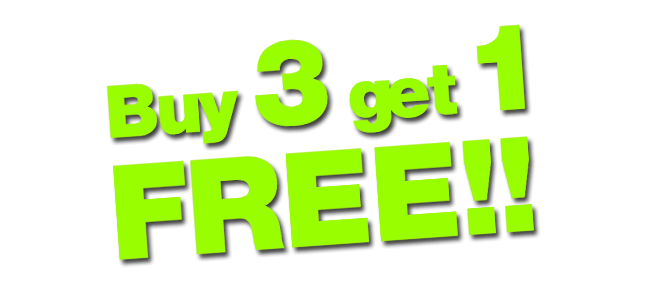 TRADER'S TRIO SPECIAL
(BETTER THAN A BAKER'S DOZEN!)
BUY THREE MONTHS OF WEEKLY OPTIONS TRADING MEMBERSHIP FOR $297 AND GET A FOURTH MONTH FREE!
Payments processed safely and securely through Paypal.



 "

Weekly Options TradeS

" Recommendations


Week Beginning Monday, mARCH 01, 2021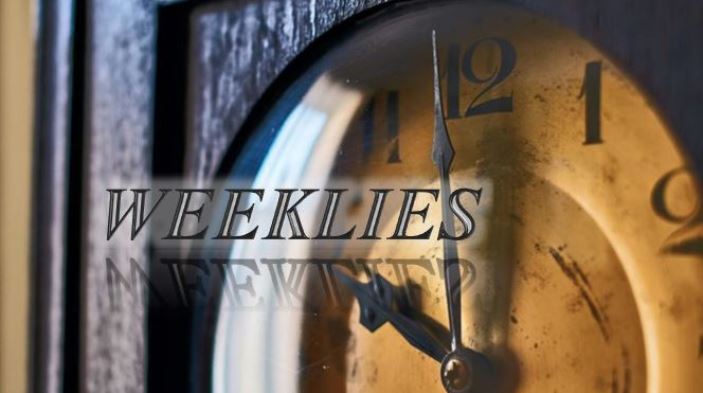 Weekly Options Trade – Broadcom Ltd (NASDAQ:AVGO) Calls
Friday, March 05, 2021
** OPTION TRADE: Buy AVGO MAR 12 2021 457.500 CALLS at approximately $7.20.
(Some members have asked for the following.....
Place a pre-determined sell at $14.40.
Include a protective stop loss of $2.90.)
Prelude.....
Chipmaker Broadcom Ltd (NASDAQ:AVGO)  late yesterday easily beat Wall Street's targets for its fiscal first quarter and guided higher for the current period. However, AVGO stock fell in extended trading.
The San Jose, Calif.-based company earned an adjusted $6.61 a share on sales of $6.66 billion in the quarter ended Jan. 31. Analysts expected Broadcom earnings of $6.55 a share on sales of $6.61 billion. On a year-over-year basis, Broadcom earnings rose 26% as sales climbed 14%, representing the company's biggest sales and earnings growth in more than two years.
For its fiscal second quarter ending May 2, Broadcom expects to generate sales of $6.5 billion, up 13% from the year-earlier period. Analysts had predicted revenue of $6.33 billion.
"We executed well during our first fiscal quarter, driving 14% organic growth year on year," Chief Executive Hock Tan said in a news release. "This growth reflects the critical role our technology franchises play in this environment of accelerated digital transformation."
However, AVGO stock fell despite a beat-and-raise report!
The Major Catalysts for This Trade.....
The Earnings.....
Chipmaker Broadcom easily beat the Street's targets for its fiscal first quarter and guided higher for the current period.
In after-hours trading on the stock market yesterday, AVGO stock dropped 1.5%, near $436.95. During the regular session, AVGO stock sank 4.2% to $443.59.
Broadcom came out with quarterly earnings of $6.61 per share, beating the Consensus Estimate of $6.55 per share. This compares to earnings of $5.25 per share a year ago. These figures are adjusted for non-recurring items.
This quarterly report represents an earnings surprise of 0.92%. A quarter ago, it was expected that this chipmaker would post earnings of $6.26 per share when it actually produced earnings of $6.35, delivering a surprise of 1.44%.
Over the last four quarters, the company has surpassed consensus EPS estimates four times.
About Broadcom.....
Broadcom's stock has tripled over the past five years as the wireless chipmaker once known as Avago aggressively expanded through big acquisitions. Avago gobbled up the original Broadcom in 2016, assumed its name, and acquired the network equipment maker Brocade in 2017.
The new Broadcom expanded into the infrastructure software market by acquiring CA Technologies in 2018 and Symantec's enterprise security business in 2019. It even nearly took out Qualcomm (NASDAQ: QCOM) with a hostile bid before the Trump administration blocked the takeover.
Summary.....
Ahead of the stock market open Friday, Dow Jones futures rose 0.25%, while S&P 500 futures gained 0.1% vs. fair value. Nasdaq 100 futures slipped 0.3% vs. fair value. Remember that trading in Dow Jones futures and elsewhere doesn't necessarily translate into actual trading in the next regular stock market session.
Midday Thursday, Fed chief Jerome Powell sparked the day's sell-off, saying last week's surge in bond yields "caught my attention." But Powell also said that the Fed remains highly accommodative and didn't hint at a new "twist" in policy. The 10-year Treasury yield spiked, closing at 1.55%.
Early today, the 10-year Treasury yield jumped above 1.6% after the better-than-expected jobs report.
The Labor Department released its monthly jobs report at 8:30 a.m. ET, showing that the U.S. economy added 379,000 jobs in February. The U.S. economy was expected to add 175,000 jobs in February, compared to just 49,000 in January, according to Econoday. The unemployment rate fell to 6.2%, beating expectations.
Now, expect Broadcom to bounce back!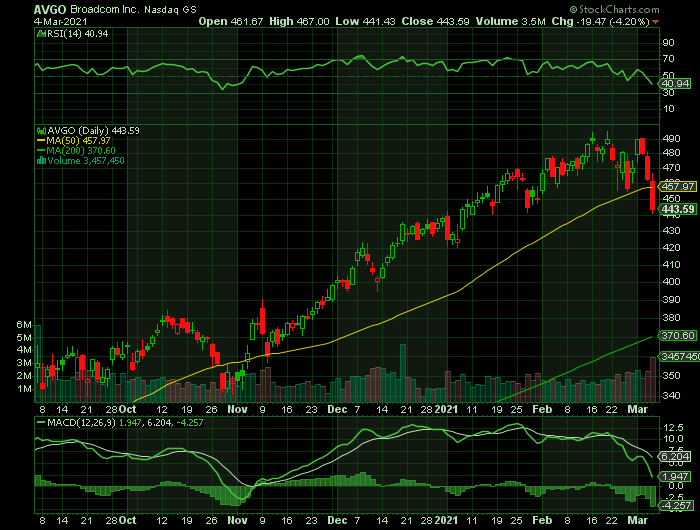 ---
Weekly Options Trade – Churchill Capital Corp IV (NYSE: CCIV) Puts
Friday, March 05, 2021
** OPTION TRADE: Buy CCIV MAR 12 2021 24.000 PUTS at approximately $2.00.
(Some members have asked for the following.....
Place a pre-determined sell at $4.00.
Include a protective stop loss of $0.80.)

Prelude.....
The stock market has been incredibly volatile. It is an unknown as to which direction stocks will go today, so play it cautiously.
Churchill Capital Corp IV (NYSE: CCIV) stock dropped 12% Wednesday, and still traded almost 11% below Tuesday's closing price. Yesterday the stock price remained fairly stagnant.
After surging for weeks on anticipation, shares of the blank-check company have tanked 56% since its planned merger with Lucid Motors was announced on Feb. 22.
The sharp drop in shares hasn't yet let up.
The Major Catalysts for This Trade.....
Sell the Rumor.....
It seems that the "sell the rumor" impact from the Lucid Motors merger remains the dominant driver. Churchill is shrugging off the rise in broader markets and also an upcoming announcement from Dolby and Lucid, due at South by Southwest in two weeks' time. Capital Raise.....
Well CCIV shares had spiked to nearly $65 as the frenzy over the rumoured merger with Lucid reached boiling point. Social media was abuzz with talk of the Churchill Lucid merger. But what many failed to realize was that in the event of the deal progressing there was likely to be a further capital raise needed. Easy to say with hindsight but this is what duly happened, with the PIPE transaction being priced at $15. CCIV shares quickly moved to $30 once the details of the merger became clear and CCIV stock has continued to drop below this level since ever since.
Competition..... 
It is clear given the model lineup and prices touted that Lucid is going for the luxury sector of the vehicle market. For now, none of the mainstream auto manufactures captures the high-end electric vehicle (EV) segment and Tesla has been the standard-bearer here. Not just for the luxury end of the EV sector but for the entire EV sector. Tesla is a luxury brand but Lucid looks to be going after an even higher price point initially before branching out into lower price and SUV segments, but this will take time.
Lucid clearly has the know-how, with a former Tesla chief engineer as CEO but the EV sector is about to become just the normal auto sector as all manufacturers move to electric vehicles. So, stand-alone EV companies are about to face a whole range of competitors. 
Volvo announced on Tuesday that its entire range will be fully electric by 2030. Ford announced in February that its range in Europe will be fully electric by 2030. Jaguar Landrover said its Jaguar brand will be entirely electric by 2025 and fully electric across Jaguar and Landrover by 2030.Valuation.....
Investors had valued Churchill Capital IV at approximately $15 billion before the deal was announced. That was without knowing the exact structure of the deal, but investors in the special purpose acquisition company (SPAC) only get a minority percentage of public company.
Additionally, speculation was that the deal would value Lucid at up to $15 billion, but the actual equity value of the transaction was only $11.75 billion.
Summary.....
In the time since details of the merger was announced, Tesla CEO Elon Musk also let investors know that his company would continue to present an estimable competitor, revealing that Tesla's full self-driving (FSD) offering will be available by midyear.
Although Lucid is now well funded, has a management team and CEO who knows the EV industry well, shares are likely to continue treading water until the actual launch of its first model or some other news event, launch date announcement, etc. First deliveries are due to be the second half of 2021, initially, it was hoped to be Spring 2021.
---
Weekly Options Trade – Plug Power Inc (NASDAQ: PLUG) Calls
Tuesday, March 02, 2021
** OPTION TRADE: Buy PLUG MAR 12 2021 55.000 CALLS at approximately $2.55.
(Some members have asked for the following.....
Place a pre-determined sell at $5.10.
Include a protective stop loss of $1.05.)

Prelude.....
Alternative energy companies have caught investors' imaginations this year and the hydrogen fuel cell player Plug Power Inc (NASDAQ: PLUG)  has been a prime beneficiary.
Plug Power jumped on Monday as the focus of investors shifts from pandemic-related relief to a potential infrastructure-spending stimulus package. 
If the Biden administration proposes an infrastructure bill, comments about a pivot toward clean energy that were made during the election campaign have investors in the renewable energy sector believing there will be benefits for companies like Plug Power.
Shares of Plug Power have corrected approximately 30% from recent highs this year, after extended bullish runs since the November 2020 election. Even with the recent downtrend, shares of Plug Power are up 203% since the election. Now that the next big spending bill backed by the administration may be focused on infrastructure, energy companies that work to help reduce carbon emissions are being targeted again by investors. 
Any infrastructure spending bill that includes support for green energy should benefit Plug Power.
The Major Catalysts for This Trade.....
Positive Analysts Input.....
Analysts are optimistic toward PLUG, with nine of the 12 in coverage calling it a "buy" or better. Plus, the security's 12-month consensus target price of $64.03 is a 22.8% premium to current levels. 
JPMorgan analyst Paul Coster upgraded Plug from Neutral to Overweight and reiterated a $65 price target.
Plug Power is an excellent story stock in a market that is hungry for growth, particularly in the alternative energy space, Coster said in a Monday upgrade note. 
Plug shares are down 18% overall in the last month after the company disappointed investors by reporting a net loss of $476.3 million and negative revenue of $316 million in the fourth quarter thanks to a $400-million charge.
Coster said the nascent stage of Plug's business makes the stock a high-risk investment at this point, but the tremendous long-term upside makes the recent pullback a potential buying opportunity.
"Investors generally seem attendant to the risks associated with this company (particularly a potential rotation from momentum into value), but take the view that PLUG is a leading contender for meaningful share of [the] future Hydrogen economy, in 5 - 10 years," the analyst said.
Coster said he is anticipating Plug will announce at least one additional "pedestal" customer deal in 2021, in addition to partnerships and joint ventures that will help Plug expand its international footprint.
He is also bullish on the pace of investments in Europe and South Korea and predicted Plug will announce a large stationary deployment with a data center owner sometime in the second quarter.
Coster is now projecting a 2021 adjusted EPS loss of 17 cents on gross billings of $453 million.
And, Oppenheimer analyst Colin Rusch boosted the price target on PLUG from $23 to $62, while reiterating an Outperform (i.e. Buy) rating last week, even after PLUG's "earnings" report that was a disaster.
Plug Power reported revenue of negative $316 million for the fourth quarter and negative $100 million for the year. In contrast, the company's gross billings were positive $96.3 million for the quarter and $337 million for the full year. The annual gross billings rose 42.5% year over year.
The difference in gross billings and revenue is due to certain warrants that the company gave years ago to its key customer Amazon. In 2017, Plug Power granted Amazon warrants acquiring up to 55.3 million of Plug Power's common shares at roughly $1.20 per share. You can think of this as a kind of rebate that Plug Power, looking for customers, offered to Amazon to buy its fuel cells and services. Vesting of the warrants required Amazon to buy goods and services worth $600 million, over time, from Plug Power. Of this, Amazon expected to make purchases worth roughly $70 million in 2017.
Despite the splotches of bright red ink spilled all over Plug's earnings report, the analyst declared the company's results "solid." Ignoring the negative revenue, he emphasized the fact that management reiterated its guidance for future "gross billings" of $475 million in 2021, adding that Plug plans to grow this number to $750 million in 2023. And he applauded the fact that Plug reiterated its plans to drive forward in an attempt to dominate what it calls "the $10T hydrogen economy," accelerating its green hydrogen generation business, continuing to sign "partnerships, joint ventures and acquisitions" with foreign partners, and expanding "customer relationships across all businesses" in an effort to reach its goals.
Peering far into the future, Rusch posited that if Plug's plans succeed, then by 2026 the company could do as much as $2.6 billion in "gross billings," and earn a percentage internal rate of return on its investments "at least [in the] mid-teens."
Summary.....
In a market full of high-growth stocks with staggeringly high valuations, Plug is one of the highest-valued, highest-growth story stocks out there. Following Monday morning's gains, Plug shares now trade at 70.8 times sales compared to just a 6.2 forward PS ratio for the tech sector as a whole.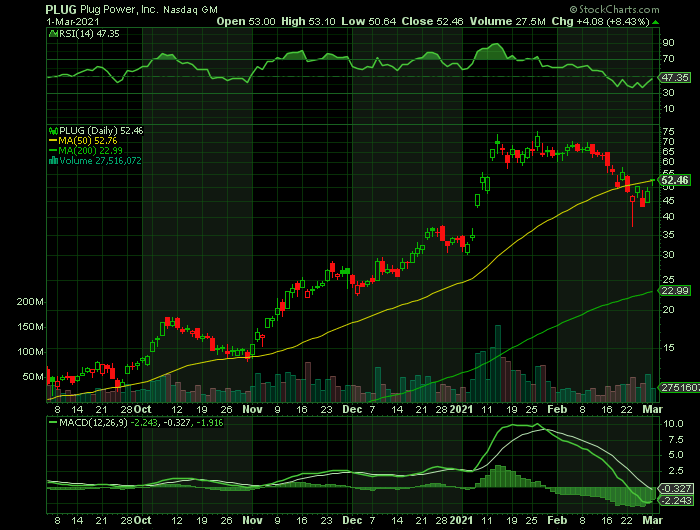 ---
---
---
---
Back to Weekly Options USA Home Page